Birds and Baskets by Paul D. Pilgrim


Exhibit curator Gerald E. Roy comments on his partner's quiltmaking: "After completing a quilt from blocks left by his grandmother, he stretched the custom of using inherited pieces to include many unfinished projects from former unrelated generations. Convinced he was not only preserving by completion, but celebrating the efforts of anonymous quiltmakers from the past, he began incorporating antique blocks and fabrics into his own work."

Quilt blocks from the 19th and 20th centuries are found in the 29 fascinating quilts of this exhibit. A sampler quilt boldly combines contemporary fabrics with a wide range of c.1860-1880 blocks Paul had collected over a five-year period in Pennsylvania, Vermont, and Kentucky. Text with each quilt in the exhibit indicates the source and dates of various blocks and fabrics, as well as information about Paul's inspiration and thoughts on the design. With their labeling, these quilts become a wonderful compendium of textile and block design history.

Through his quilts Pilgrim's humor, artistry and his great love for antiques can be enjoyed for many years to come.
See this collection:
National Quilt Museum, Paducah, KY 7/13/12 - 10/16/12
Branigan Cultural Center, Las Cruces, NM 09/06/13 - 10/26/13
Blending the Old & the New: Quilts by Paul D. Pilgrim was developed by The National Quilt Museum as a tribute to quiltmaker and quilt collector Paul D. Pilgrim of Oakland, CA, who died of cancer in November 1996. This exhibit is being traveled to museums around the country.

Paul Pilgrim, together with Gerald E. Roy, played an important role in the development of The National Quilt Museum. Pilgrim/Roy assisted with the interior design of the building, loaned many beautiful quilts from their extensive antique collection and assisted with the exhibit design for many important museum exhibits.

In partnership for 33 years with Gerald E. Roy in Pilgrim Roy Antiques & Interiors (San Francisco and Oakland), Pilgrim developed one of the foremost collections of antique quilts in the country. As they traveled around the country purchasing quilts and other antiques for their business and their own collection, Pilgrim found he just couldn't leave behind many of the stacks of "orphan blocks" he found in shops--the quilt blocks that had been completed but had never found their way into any quilt.

Among his many other talents, Pilgrim was a quiltmaker. He began making the "orphan blocks" he acquired into quilts, coming up with some wild and wonderful combinations of new and old.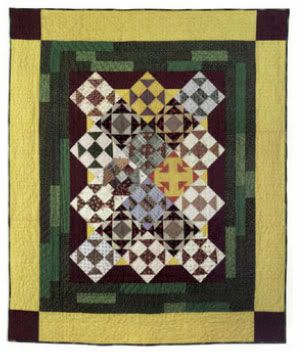 Shoo Flies, Toads & T's by Paul D. Pilgrim
The Pilgrim/Roy Invitational Quilt Challenge, named for Gerald E. Roy and the late Paul D. Pilgrim, is an annual quilt challenge sponsored by MODA Fabrics and Hancock's of Paducah.
Promising talented new and nationally known quiltmakers are selected by Gerald E. Roy to participate in the annual challenge. Using only fabrics donated by the challenge's sponsors, Hancock's of Paducah, plus one other fabric, quiltmakers were asked to create unique and engaging wall quilts.
After opening each year at the Annual American Quilter's Society Quilt Show and Contest in Paducah, Kentucky, the quilts travel to guild shows for one year. Following the exhibit's tour, the quilts are auctioned at the annual National Quilt Museum Benefit Auction. The proceeds raised support the conservation and preservation of the National Quilt Museum's Founders Collection. The 2014 Pilgrim/Roy Invitational Challenge fabric is provided by Gerald Roy from the Pilgrim/Roy fabric archive.
2014 participating quiltmakers are:Shirley P. Kelly; Joann Lischynski; Heather Greene, Machine quilted by Sally Terry; Nancy S. Brown; Libby Lehman; Kathy Stubbs Ward; Debbie Caffrey; Bettina Havig; Gerald Roy; Meredith Schroeder, Bonnie Browning, Kathy Davis, Michele Duffy, Andi Reynolds, quilted by: Lisa Sipes; Lynn Loyd, Pat Owen & Karen Allen, Paducah, KY; quilted by: Judy Ingram.

See this amazing collection of quilts in person at these locations:

CDM Show - Cincinnati, OH, Original Creative Festival, Sharonville Convention Center
06/13/13 - 06/15/13
Quilt Expos - Deschutes County Fair and Expo Center
Redmond, OR
07/10/13 - 07/14/13
Pinetree Quilters Guild - Augusta Civic Center
07/26/13 - 07/28/13
AQS Grand Rapids
08/14/13 - 08/17/13
Super City Quilt City - Metropolis, IL
09/14/13 - 09/15/13
CDM Shows - Round Bobbin Expo, St. Charles Convention Center, MO
09/20/13 - 09/21/13
AQS Phoenix
02/05/14 - 02/08/14
AQS Lancaster
03/12/14 - 03/15/14
AQS Paducah
04/23/14 - 04/26/14
Click on image for a larger view.
| | | |
| --- | --- | --- |
| Fractured Fault Lines, by Bettina Havig | Back to School, by Debbie Caffrey | My Cousin Vinny, by Heather Greene |
| I've been running in circles for 20 years, by Joann Lischynski | Swamp Scenes: Evening Mist, by Kathy Stubbs Ward | Tribute, by Libby Lehman |
| Too Much Fun, by Lynn Loyd, Pat Owen & Karen Allen, Paducah, KY; quilted by: Judy Ingram | The More, The Merrier, by Meredith Schroeder, Bonnie Browning, Kathy Davis, Michele Duffy, Andi Reynolds, quilted by: Lisa Sipes | Out of the Blue, by Nancy S. Brown |
| Eeeeeuuuu!!! What's this stuff?, by Shirley P. Kelley | Masquerade, by Gerald Roy | |