The National Quilt Museum
The building was constructed in 1991 for use by the museum. Its facility has been integral to the museum's success. The 27,000 square-foot building was specially designed by Paul Gresham of Gresham & Associates, Inc. and constructed by Vanguard Contractors for the activities of the museum. The museum includes three galleries; two classrooms, one of which can be divided into two spaces for smaller classrooms; a lobby; an atrium; a conference room; a Museum Shop and a storage vault in addition to staff offices and work areas.
Whether you are having a guild workshop, business meeting, reception or community event, The National Quilt Museum has the room for you! Space available for rental includes three, 32' x 26 1/2' classrooms; two of which can be combined to make one 64' x 26 1/2' room. The lobby is ideal for after hour receptions and the conference room perfect for small business meetings. Click here for complete information and rates.



Interior designers for the museum were nationally known quilt makers and quilt collectors, Pilgrim/Roy of Oakland, CA. The main entrance leads into a spacious lobby with commissioned stained glass windows by Jack Wallis (Murray, KY) based on quilt designs. Visible from both inside and outside of the building, they provide quilt-like patterns in an area flooded with light that would adversely affect any actual textile quilts. The lobby floor features a striking geometric pattern very like a patchwork pattern, executed in contrasting colors.



The galleries were custom-designed for effectively exhibiting even very large quilts.

Quilts have often been only partially revealed, shown draped over beds or other objects because their size often exceeds the dimensions that standard exhibition spaces offer. The National Quilt Museum's walls are large enough to allow all quilts to be shown fully extended. Thirty-nine moveable 10' x 10' x 3' walls make it possible for the exhibition space to vary as needed within each of the galleries, enabling the quilts in a particular show to be presented in the best manner possible.


Gallery dimensions are as follows:
Gallery A 7000 sq. ft. 23% of bldg; 52% of gallery space
Gallery B 2900 sq. ft. 10% of bldg; 22% of gallery space
Gallery C 3500 sq. ft. 12% of bldg; 26% of gallery space
Total gallery 13,400 sq. ft. 45% of building
Selections from the Museum's Collection are hung in the center Gallery A. Frequently changing exhibits of quilts on loan are found in the two side Galleries B & C.

Since spring 1997, continued donations to the Paul D. Pilgrim Fund have made possible many enhancements to the initial exhibit galleries, including the addition of 14 four-foot sections of track lighting.

The museum's specially designed exhibit space, together with its special quilt hanging system and environmental controls, ensures that quilts can be viewed to their best advantage.



The National Quilt Museum Shop is a treasure house for finding quilt books, quilt-related items and gifts. The Shop carries more than 800 book titles on quilt history, techniques, individual quilters as well as novels and popular books related to quilting. The Museum Shop also features fine hand crafted pottery, glass, fiber, wood and jewelry by Kentucky and national artisans. Shop sales help support this non-profit museum.

There is no admission fee to enter the Museum Shop so please plan to visit during your next visit to The National Quilt Museum. Feel free to email or phone us to inquire about specific book titles.

We do ship! You may place your order by phone at 270-442-8856, ext. 208. The National Quilt Museum accepts VISA, MasterCard and Discover. Shipping costs are additional. Friends of the Museum enjoy a 20% discount.



The stained glass windows in the museum's lobby were commissioned by Bill and Meredith Schroeder co-founders of the museum.

Each window is based on a contemporary quilt that had been featured in one of the many publications of the American Quilter's Society. The windows were commissioned with permission granted by each quiltmaker. Three of these quilts are in the museum's collection: Basket of Flowers by Marzena J. Krol, Sunset Kites by Carol Wadley and Oriental Fantasy by Katherine E. Inman.

The nine windows installed in the building are based on the following quilts:
Violets by Mary Jo McCabe, Davenport, IA
Valentine Rose Double Wedding Ring by Linda Peterson, Great Falls, MT
A Radius Around Ourself by Katie Couch, San Jose, CA
Basket of Flowers by Marzena J. Krol, Carmel Valley, CA
Tossing Pebbles in the Lily Pond by Dottie Deuser, Sheridan, WY
Iris by Velda Newman, Nevada City, CA
Oriental Fantasy by Katherine E. Inman, Athens, OH
Morning Glory Trellis by Caryl Bryer Fallert, Oswego, IL
Sunset Kites by Carol Ann Wadley, Hillsboro, OR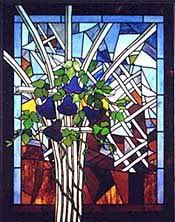 An additional commissioned window currently in storage is based on the following quilt:
Kings X by John Flynn, Billings, MT

The windows were designed and fabricated in 1986-87 by glass artist Jack Wallis of Murray, Kentucky. The construction plans of the museum's lobby, conference room and one of the offices were designed to include display space for these windows. The nine windows currently on exhibit were installed prior to the Museum's opening on April 25, 1991.

These striking stained glass windows provide the museum with a wonderful opportunity to show quilt designs in such a way that they are visible outside and inside the building as well as at night. This allows the ability to show quilt-designs in an area flooded with light which would quickly deteriorate any actual textile quilts.



The National Quilt Museum is proud to bring On the Trail of Discovery, five life size bronze sculptures celebrating the Lewis & Clark Expedition to historic downtown Paducah. The statues were donated by Bill and Meredith Schroeder, founders of the museum. The Lewis & Clark Expedition statues provide exciting outdoor art, accessible day and night.

The sculptures are a permanent addition to the museum's front lawn and link the museum to the history of Paducah and to Paducah's historic riverfront. On the Trail of Discovery has the following life size figures:
Meriwether Lewis, Co-Captain on the Lewis & Clark Expedition. He is shown in military uniform like the one he wore on the expedition
Lewis & Clark Statues
Seaman, Lewis' Newfoundland dog, who traveled the entire journey
William Clark, Co-Captain of the Lewis & Clark Expedition. Clark was the mapmaker of the expedition and, like Lewis, was a military man, but was also a frontiersman, and is shown in the casual frontier clothing worn much of the time on the expedition. A Native American man
A Native American child
According to the sculptor, George Lundeen, who designed these figures, the Native Americans shown here represent all Native Americans who helped Lewis and Clark during their journey. He purposely placed few decorations or designs on their clothing because he did not want to identify them with any particular Native American group. The man wears a "peace medal" with the likeness on it of President Thomas Jefferson. Peace medals were presented by the Co-Captains to the Native American chiefs they met along the way. If you look carefully, you will also find a "coin" similar to the Sacagawea dollar. The Sacagawea dollar was not created until 2000, but the image provides a reminder that Sacagawea, a Native American woman, traveled from Montana to the Pacific Ocean and back with the Expedition assisting the expedition in many ways. The child holds an American flag similar to ones that would have been carried by the expedition.


Background Information About The Statues:

The bronze sculptures were designed by George Lundeen, a sculptor who was born in Holdredge, Nebraska, and now lives and works in Loveland, Colorado. Lundeen went to Florence, Italy, for a year on a Fulbright-Hays Scholarship where he was inspired by the work of master sculptors there to become a professional sculptor. Today, Lundeen is a nationally known sculptor of realistic figures. He has achieved the status of full Academician of the National Academy of Design in New York, the highest professional recognition bestowed on visual arts in America. George Lundeen's lifesize bronze statues can be seen in collections and locations around the world including the Capitol Rotunda in Washington, DC. Lundeen is quoted on the Museum of Nebraska Art website, saying of his sculptures, "As someone views and touches a piece of my work, it is my sincere hope that they will look past that hard surface of bronze to find the life which I try so much to capture within."

[Information taken from unk.edu website.]

Significance Of William Clark And His Connection To Paducah:

Born in Virginia in 1770 (before the American Revolution), William Clark had 5 older brothers who fought for American Independence, including two who died in the process and George Rogers Clark whose service to the country resulted in his being given the land on which Paducah exists. After the death of George Rogers Clark, William purchased the land for $5. In 1827 he drew the plat map laying out the city of Paducah and named the city after a tribe of friendly Native Americans he had met. The original plat drawn by William Clark is in Paducah's Market House Museum. William Clark founded the city, drew the plat map and gave the city its name. Even though William Clark had many accomplishments in his life of service to his country, being co-captain of the Lewis and Clark Expedition is probably his greatest claim to fame. It is appropriate that he is honored in the midst of historic downtown Paducah by a bronze statue depicting him in his role as co-captain.



The National Quilt Museum is proud to have Lime Light by Philippa Naylor on the outside of its building as a part the West Kentucky Quilt Trail. Not only do Quilt Trails promote the heritage of quilting, they also provide a reason for travelers to get off the interstates and explore the countryside!

Lime Light by Philippa Naylor

GPS Coordinates

Latitude 37.088769 - Longitude. -88.596501

Read more about Lime Light and Philippa Naylor's inspiration in creating this award-winning quilt.